ITINERARY FOR BHUTAN
Duration:
7 Nights / 8 Days
Destination Covered:-
Paro-Thimpu-Trongsa- Bumthang -Punakha – Paro
Day 1
Arrive Paro by Druk Air from Delhi or Calcutta
The flight into Bhutan takes you close to the great Himalayas, offering dazzling scenic views of some of world's highest glacial peaks. As you enter Paro valley, you will sweep past forested hills with the silvery Paro Chu (Paro river) meandering down the valley below. Paro Dzong (fortress) and Ta Dzong (National Museum) on the hills above the town will be a fine sight. Our representative will meet you at Paro airport and see off for Thimphu, an exciting blend of tradition and modernity.
Overnight in Hotel.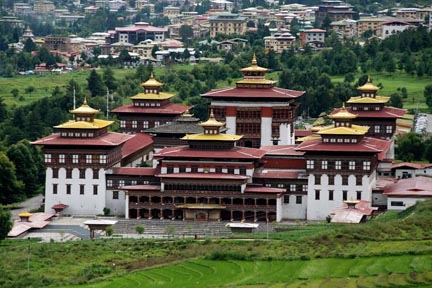 After breakfast, sightseeing in Thimphu valley including visit the following: the National Library, housing an extensive collectionthimphu weekend market of priceless Buddhist manuscripts; the Institute for Zorig Chusum (commonly known as the Painting School) where students undergo a 6-year training course in Bhutan's 13 traditional arts and crafts. Later visit Textile and Folk Heritage Museum, a fascinating testimony of the Bhutanese material culture and living traditions.
After lunch, visit Trashichhoedzong, "fortress of the glorious religion". This is the center of government and religion, site of monarch's throne room and seat of Je Khenpo or Chief Abbot. Built in 1641 by the political and religious unifier of Bhutan, Shabdrung Ngawang Namgyal, it was reconstructed in 1960s in traditional Bhutanese manner, without nails or architectural plans. Also visit King's Memorial Chorten continuously circumambulated by people, murmuring mantras and spinning their prayer wheels. Construction of this landmark was the idea of Bhutan's third king, His Majesty Jigme Dorji Wangchuk ("the father of modern Bhutan") who has wished to erect monument to world peace and prosperity. Completed in 1974 after his untimely death, it serves both as a memorial to the Late King and as a monument to peace.
Then, visit the government-run Handicrafts Emporium and local crafts shops, to browse through example of Bhutan's fine traditional arts. Here you can buy hand-woven textiles, thangkha paintings, masks, ceramics, slate and wood carvings, jewelry, interesting items made from local materials.
Overnight in Hotel.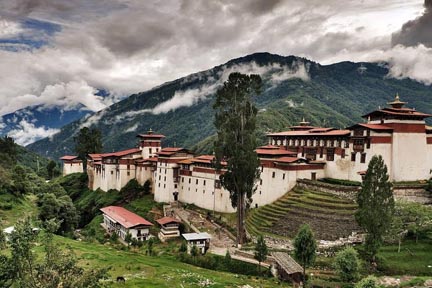 Day 3
Thimphu - Trongsa (200 Km, 6 hours)
After early breakfast, drive to Dochula pass (3,080m). If the weather permits, you can see a range of high Himalayan peaks towards the north east. Following peaks can be seen from this pass, on a clear day ; Masagang (7,158m), Tsendagang (6,960m), Terigang (7,060m ), Jejegangphugang (7,158 m ), Kangphugang (7,170 m ), Zongphugang (7, 060 m ), a table mountain that dominates the isolated region of Lunana - finally Gangkar puensum, the highest peak in Bhutan at 7,497m.
Further drive onwards Wangduephodrang arriving town for lunch. The descent from Dochula into Wangduephodrang valley is quite long as the altitude difference is 1700 meters.
Proceed onward to Trongsa across Pelela pass (3,300 m ), the traditional boundary between east and west. The pass is marked by a large prayer flag and the ground is Chendibji Chorten trongsa covered with high altitude dwarf bamboo. Stop en route at Chendbji Chorten, which was built in 18th century by a Lama named Shida, it is Nepalese in style with eyes painted at four cardinal points.
Arrive Trongsa and check at the lodge.
Day 4
Trongsa- Bumthang (68 Km, 3 Hours )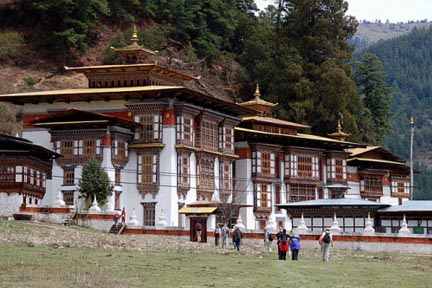 After breakfast visit Trongsa Dzong. Like almost all towns in the Kingdom, this Dzong architecture dominates the entire Trongsa horizon dwarfing the surrounding buildings. Built in 1648, it was the seat of power over central and eastern Bhutan. Both the first and second King ruled the country from this ancient seat.
And drive to Bumthang which is about 3 hours. 29 km from Trongsa road reaches the Yutong La pass (3,400m). Further 13 km ahead, the road enters into a wide open cultivated valley known as Chumey valley.
On arrival in Bumthang, check into the lodge. After lunch, visit Kurje Lhakhang where the saint Padmasambhava subdued a local demon and left his body imprint on a rock., the Jambey Lhakhang (7th century temple), Tamshing Monastery (one of the oldest monastic school), the Jakar Dzong (administrative centre of the region) and Swiss Farm House.
Overnight at the Lodge.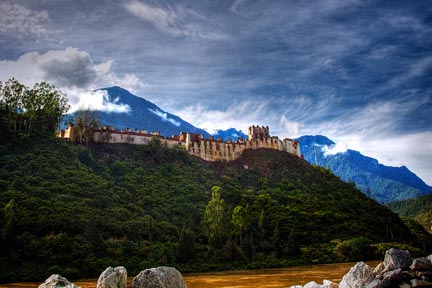 Day 5
Bumthang - Punakha (205 Km, 7 Hours )
After breakfast explore fascinating valley of Bumthang. Then proceed to Trongsa where lunch would be served in local restaurant, famous for its traditional cuisine.
Before arriving Punakha visiting en route to visit Wangduephodrang Dzong.
Overnight in Hotel.
Day 6
Punakha - Paro (125 Km, 4 Hours )
Morning visit to Punakha Dzong, a massive structure built at the junction of two rivers. It was the capital of Bhutan until 1955, and still serves as the winter residence of the monk body. The first King, Ugyen Wangchuck was crowned here in 1907. The fortress has withstood several damages from fire, earthquake and flood. The latest flood of Oct' 1994 caused great damages to the fortress but miraculously spared the statue of Buddha Jojampa.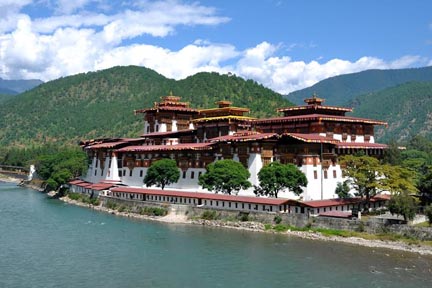 Then drive to Paro en route visit traditional Bhutanese farm house which offers good insight into lifestyle of local people and their culture.
Afternoon visit Ta Dzong, inaugurated as National Museum in 1968, and holding a fascinating collection of art, relics, religious thangkha paintings, Bhutan's exquisite postage stamps, coins and handicrafts, together with a small natural history collection.
After that walk down the trail to visit Rinpung Dzong, also known as "fortress of the heap of jewels". Built in 1646 by Shabdrung Ngawang Namgyal , the first spiritual and temporal ruler of Bhutan, the Dzong houses the monastic body of Paro, the office of the Dzongda (district administrative head) and Thrimpon (judge) of Paro district.
Overnight in hotel.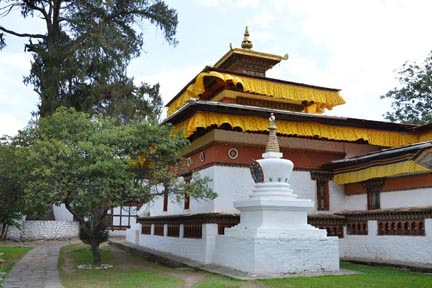 After breakfast excursion to Taktsang Monastery, perched on the side of a cliff 900m above the Paro valley floor. It is said that Guru Rinpoche arrived here on the back of a tigress, and meditated at this place, hence the monastery is also called "Tiger's Nest". This site, which has long been recognized as a most sacred place, was visited by Shabdrung Ngawang Namgyal in 1646. It is a place of pilgrimage which Bhutanese try to visit at least once in a lifetime.
After lunch drive to Drukgyel Dzong. This dzong, with a picturesque village nestling below its ramparts, was built in 1646 by Shabdrung Ngawang Namgyal to commemorate his victory over the Tibetan invaders.Though largely destroyed by fire in 1951, the towering outer walls and central keep remain an imposing sight. On a clear day, there is a splendid view of Mt. Chomolhari from the approach road to Drukgyel Dzong.
Evening visit Kyichu Lhakhang, built in 7th century, is one of the two oldest and most sacred shrines in Bhutan (ther other being Jambay Lhakahng in Bumthang).
Overnight in hotel.
After breakfast transfer to Paro Airport for flight to Delhi or Calcutta.