ITINERARY FOR GREAT WILDLIFE WONDER
Duration:
14 Nights / 15 Days
Destination Covered:-
Delhi - Sawai Madhopur - Ranthambore - Jaipur - Bharatpur - Fatehpur Sikri - Agra - Umeria - Bandhavgarh - Kanha - Nagpur - Delhi
This tour is an experience in its own. During the tour we visit some of the best Indian wild life parks protected under the project tiger. The tour starts with arrival into Delhi and then a city tour . From here we take a journey by Car to Sawai Madhopur from where we drive to Ranthambore. Ranthambore is one of the few preserves where the camera - shy tigers may be seen in day light.The park covers an area of about 400 sq kms has a beautiful scenery. The next stop is Jaipur called "Pink city of India " and visit places such as Palace of Winds , Amber Fort and City palace and then from here we proceed to Bharatpur the famous bird sanctuary which boast of 300 species of resident and migratory birds. The next stop is Agra the city of Taj Mahal and Agra Fort. An overnight train from here takes us to Umeria from where we are transferred to Bandhavgarh national park. Bandhavgarh is a home for white tiger and other species such as bison , ambar , barking deer and blue bull. Here it is best to view the exclusive cat. After spending few days we drive to Kanha National Park - the original kipling so vividly described in the jungle books. Kanha has around 22 species of mammals and most commonly spotted are languor , jackal , wild pig , spotted deer , swamp deer , samber and black duck. Here you may see the tigers, hyena , panther , fox also. Kanha also house around 200 species of birds. After spending and enjoying the days viewing the Indian wildlife we transfer to Nagpur and onward to Delhi.
Arrive New Delhi and assistance will be provided upon arrival and then transfer to Hotel by Car.
Delhi: The capital city of Independent India is often the starting point of a visit to India. Like Rome it is an eternal city and is a name with music in it for most of the people. For Indians it is the capital of their country, the centre of power and culture, for the simple villager it is identified as the home of Panditji, as Mr.Nehru was affectionately known. For foreigners who have read of it in their newspaper and seen on their television, it is strange and sometimes puzzling blend of ancient and modern, of pageantry and socialistic planning.
There are Today two Delhi's : Old Delhi- the city built by Shahjahan the man who built the Taj Mahal and New Delhi-built by the British in 1931. It is the juxtaposition of the Old and the New one which is one of the attraction of the capital. While the Old Delhi evokes a distinctly oriental atmosphere, New Delhi has wide avenues and imposing office buildings. Both the cities with monuments and mosques that can keep any tourist happy for days.
Rest of the day free at leisure.
Overnight in Hotel.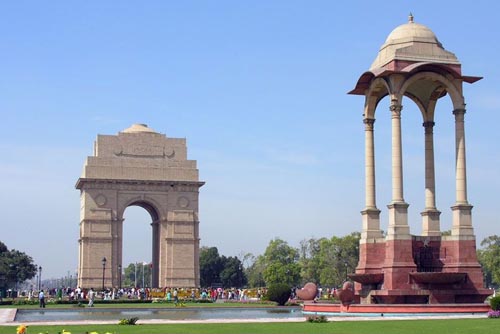 After breakfast depart for sightseeing tour of Old and New Delhi visiting:
Red Fort, Jama Masjid, Chandni Chowk, Rajghat, India Gate , Humayun's Tomb, Qutab Minar ,Iron Pillar.
A drive through the Diplomatic Enclaves to see the various High Commissions, Rashtrapati Bhawan , Central Secretariat Buildings , The Parliament House.
Overnight in Hotel.
Day 3
Delhi - Sawai Madhopur – Ranthambhore
After breakfast depart Delhi for Sawai Madhopur by Car arriving in Ranthambhore Hotel by evening.
Ranthambore is one of the few preserves where the Camera - shy tigers may be seen in day light. Ranthambore National Park is very special and unison area where a natural present meets an historical past. This park has upto 33 tigers and has a considerable population of birds and covers an area of about 400 square kms and has beautiful scenery.
This exciting journey through the countryside by car takes us to Ranthambore nearly a thousand year old fortress. Countless battles have raged around these walls . Today leopards and tigers prowl the ruins.
Overnight in hotel.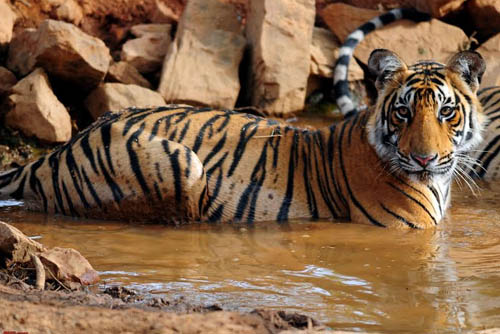 Early in the morning Jeep / Canter Ride into the Jungle to view the Wild Life.
Return to hotel for Breakfast.
After lunch again a Jeep / Canter Ride into the jungle to view Wild Life.
In the evening explore lakes on your own and visit the imposing Ranthambore.
Overnight in Hotel.
Day 5
Ranthambhore- Jaipur
After breakfast depart Ranthambhore for Jaipur popularly known as the Pink City, was built in 1727 AD by Maharaja Sawai Jai Singh II. Designed in accordance with Shilp Shastra - an ancient Hindu treatise on architecture - Jaipur follows a grid system. The old city is surrounded by a massive wall pierced by magnificent doorways. Your tour of Jaipur takes you to Hawa Mahal, or "Palace of Winds". Continue to City Palace, characterized by balconies, tiny windows, cupolas, courtyards and arched entrances. It now houses an excellent collection of Rajasthani costumes, miniatures, and in armory of weapons. The Maharajah's observatory looks like a collection of abstract sculputes, but is in fact a collection of effective instruments for studying the heavens.
Overnight in Hotel.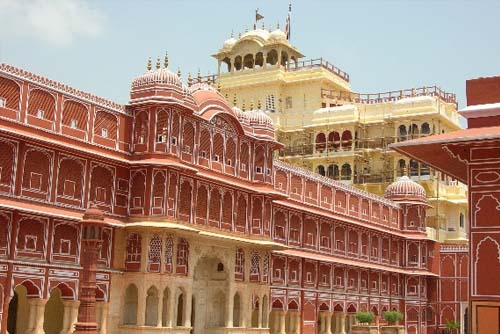 After breakfast full day sightseeing of Jaipur City and Amber Palace by Car visiting in the morning Amber Palace.
Amber Palace: Amber is a fascinating blend of Hindu and Muslim architecture. Built in the 16th century by Raja Man Singh, it sprawls on the hill side ,built in red sandstone and white marble, the palace complex has some very interesting apartments, the like of which are not to be found anywhere else in the country.
Enjoy a truly Indian Experience with an Elephant ride at the Palace like Maharajas and Maharani used to do.
In the afternoon depart for sightseeing of Jaipur City visiting:- The City Palace, Hawa Mahal ,The Astronomical Observatory ,The Museum.
In the evening, visit Chokhi Dhani where an ethnic village atmosphere is recreated each evening with thousands of oil lamps, folk dancers, arobats, snake charmers, puppeteers etc. Overnight at the Hotel.
Overnight in Hotel.
After breakfast depart Jaipur for Bharatpur which is world famous bird sanctuary . The reserve boosts of 300 species of resident and migratory birds.
In the evening Rickshaw Ride to watch the birds.
Overnight in Hotel.
Day 8
Bharatpur- Fatehpur Sikri-Agra
After breakfast depart Bharatpur for Agra en route visiting Fatehpur Sikri ( ghost capital) for a tour of the magnificent and world heritage buildings still in a state of perfect preservation and after visiting the old mughal capital we continue our journey to the city of Taj Mahal, Agra arriving in Hotel by afternoon.
Agra was the capital of India under the Moghuls in the 16th and 17th centuries.
After resting for sometime depart to visit Agra Fort built over three generations by the Mughal Emperors.
Overnight in Hotel.
Day 9
Agra – Umaria by Overnight train
After breakfast visit Taj Mahal which is a mausoleum built by a sorrowing Shah Jahan in memory of his young wife, Mumtaz Mahal. The building's stupendous scale, flawless symmetry, translucent white marble and shimmering reflection in the water channel are truly breathtaking. Taj Mahal is closed on Friday.
Itmad ud daulah which is an exquisite tomb of the Emperor Jehangir's chief minister and father-in - law, often called the 'BABY TAJ' because its design foreshadows the Taj Mahal.
In the evening transfer to Railway Station to board an overnight train to Umaria.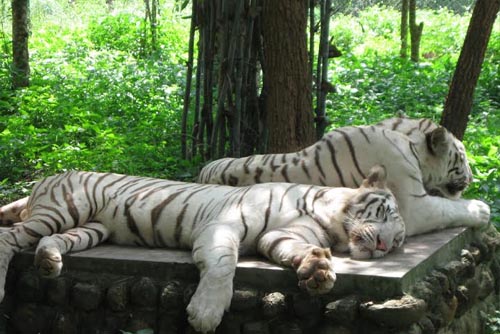 Day 10
Arrive Umaria and transfer to Bandhavgarh National Park
Arrive Umaria railway station and directly leave by Car for Bandhavgarh National Park arriving in Hotel.
Bandhavgarh home of white tigers and other species such as Indian bison, sambar, barking deer & blue bull. Bandhavgarh's large tiger population offers the best chance to see the elusive cat. Spend two days of game viewing and bird watching in these valleys. On the highest hill stands Bandhavgarh Fort, surrounded by numerous caves containing shrines and ancient Sanskrit inscriptions.
Rest of the free at leisure.
Overnight in Hotel.
Morning as well as in the Afternoon visit the Jungle by Jeep to view Wildlife where you can see the South Bear, Wild Boar, Leopard and Tigers. The Park is also populated with India's rare and endangered animals such as Chital , Cinkara, Chowsingha, Gaur and has lots of Bird.
Overnight in Hotel.
Day 12
Bandhavgarh- Kanha National Park
After a another morning game drive in Bandhavgarh depart for Kanha the original country Kipling so vividly described in his jungle books. Kanha has some 22 species of mammals most commonly spotted are languor, jackal, wild pig, spotted deer, swamp deer, Sambar and black buck. You may also see tiger, Indian hare, wild dog, barking deer, Indian fox, sloth bear, striped hyena, panther, mouse deer, four horned antelope, blue bull and Indian porcupine. Kanha also has some 200 species of birds and a true haven for the animal and avian population.
Overnight in Hotel.
Morning as well as in the Afternoon visit the Jungle by Jeep to view Wildlife.
Overnight in Hotel.
Day 14
Kahna- Nagpur ( drive )- Delhi ( by flight )
After breakfast depart Kahna for Nagpur Airport by Car in time to catch flight for Delhi.
Assistance upon arrival in Delhi and transfer to Hotel.
Overnight in Hotel.
After what will have been a majestic way to see and experience royal India we bid farewell as we are transferred to the airport for our flight back home.