ITINERARY FOR ROYAL RAJASTHAN ON WHEELS
Duration:
7 Nights / 8 Days
Destination Covered:-
Delhi - Jodhpur - Udaipur - Chittorgarh – Ranthambhore – Jaipur – Khajuraho – Varanasi – Agra -Delhi
The Royal Rajasthan on Wheels is one of the world's most exciting rail journeys, as the train provided more facilities on board, as for the royal destinations it proceeds to every single day. With everything taken care of dining accommodation, sightseeing as well as organized shopping, there are nothing for the traveller to do but sleep in the history of the land, soak in the colours and experience the royal life of Maharaja. The tour starts from Jodhpur and come back to the city after going through in order: Jodhpur- Udaipur-Chittorgarh-Sawai Madhopur-Jaipur-Khajuraho-Varanasi-Agra-Delhi. Welcome aboard. To Head to the best city in the World "Udaipur" (Travel+Leisure) and TAJ a wonder of the world.
Day 1 Sunday:
New Delhi – The Capital of India
The Capital city of modern India a city known for its rich valorous and exotic history. Once the fabled city of the heroes of the Mahabharata and ruled by the Rajputs before they were displaced by foreign invaders. Delhi you will be treated like Maharaja & Maharani on welcome by garlanding, Tikka and turban with glass of wine .
Report at 1600 hours at Safdarjung Railway Station for the check-in formalities of Royal Rajasthan on Wheels train Tour. After traditional welcome, be escorted to luxuriously furnished personal sleeping chambers & settle in. The magic of the splendid journey begins at New Delhi and prepares you to weave the fabric of delightful imagination becoming reality over the next seven days and feel free to explore your new palace, and acquaint yourself with its various facilities. Train departs by 1730 hours .Dinner will be onboard.
Day 2 Monday:
Jodhpur- The Blue City
Jodhpur, the land of majestic and mystic glory welcomes you. Currently, the second largest city of Rajasthan, Jodhpur was established in the year 1459 by Rao Jodha, a Rajput king. The weather in this erstwhile state is always bright and sunny, hence has earned another title of the Sun City. In this royal paradise, you will find the most ordinary houses on street sides with exquisite stonework, traceries and carved latticed windows.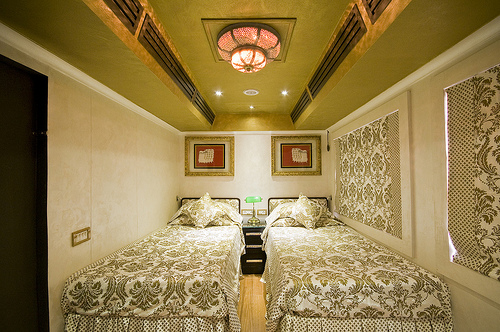 Train Reaches Jodhpur by 0800AM. The former capital of the mighty Mewar Kingdom houses many palaces, forts & temples. At 0900AM board a/c buses & proceed to visit one of the biggest Hill Forts in India- Mehrangarh Fort. Also visit, nearby located royal cenotaphs of Jaswant Thada crafted of white marble. Later Proceed to museum located in Umaid Bhawan Palace,now converted into a luxury Spa Hotel & part still serves as the principal residence of the erstwhile Jodhpur royal family. After enjoying lunch in Hanwant Mahal Boutique restaurant , return to the train & depart by 1630 hours. Dinner on board.
Day 3 Morning Tuesday:
Udaipur - City of Lakes
The land of marvellous beauty, Udaipur is named after the dynamic ruler of this princely state, Rana Udai Singh. The scenic beauty of Udaipur has earned it various titles in superlatives. This City of Lakes has a long glorious history and is also considered as the romance city of Rajasthan with endless love sagas of its rulers.
Train arrives by 0700AM in the city of Lakes named Udaipur. By 0830AM, board A/c buses & proceed to visit The City Palace, One of the largest Palace Complex in India. Visit to the unique Crystal Gallery, personal collection of H.H. Maharana of Udaipur will definitely cast a spell on you. Enjoy a boat ride in Lake Pichola, around Lake Palace Hotel, situated on an island. After lunch in Fatehprakash Palace Hotel, return to the train & depart by 1430 hours.
Day 3 Afternoon: Tuesday:
Chittorgarh - Resplendent Pride
Chittorgarh, the land of glory and valour is bound to leave you enchanted. The history of this captivating place is intriguing and spellbinding. The land of devotion and determination, Chittorgarh has produced some of the greatest devotees and courageous warriors in the history of India. Chittorgarh remains replete with historic associations and holds a very special place in the hearts of Rajputs, as it was a bastion of the clan at a time when every other stronghold had succumbed to invasion.
Train reaches by 1645 hours at Chittorgarh Railway Station. On arrival board A/C buses for ride through the ruins of biggest fort in medieval India Chittorgarh Fort which is spread over a large plateau, surrounded by a circular wall, the fort can only be approached through a steep hill road that is guarded by seven huge gates, but today there is nothing more than a ruined citadel there. Enjoy Sound & Light Show on pride, romance and spirit for people of Chittor, who always choose death before surrendering against anyone. Later drive back to train for dinner & depart by 10:00PM.
Day 4 Morning : Wednesday:
Sawai Madhopur- Ranthambhore Tiger Reserve
After the exquisite palanquins and architectural landmarks, the perfect place to experience the other side of the royal charm is Sawai Madhopur. Named after its king, Maharaja Sawai Madho Singh I, this place is in close proximity to the famous Ranthambore National Park.
Train arrives at Sawai Madhopur Railway Station by 0530AM. Early morning 0600AM, board open to air canters & proceed for 2 hours 30 min. long jungle excursion. Today Ranthambhore is said to be one of the best managed reserve forest under Project Tiger. Besides chances of sighting a tiger, Other major wild animals in the dry deciduous forest include leopards, Sloth bears, Pythons, Marsh crocodiles, wild boar, hyena & variety of deer & bird species. Return to the railway station, & board the train to depart by 9:15AM. Breakfast on board.
Day 4 Afternoon : Wednesday:
Jaipur – The Pink Paradise
Now you will be welcomed at the magnificent Pink City, Jaipur. The city with graceful architecture in a unique pink colour was established in the year 1727 by the then Maharaja, Sawai Jai Singh II. Jaipur is known as one of the well-planned cities of its time. The capital of Rajasthan, Jaipur is predominantly known for its musicians, artisans and craftsmen. Today, it is visited for its fine jewellery, varied textiles and sumptuous cuisine.
Train reaches the Pink City Jaipur by 1130AM. On arrival board A/C buses & proceed for excursion to Amber Fort Palace. Enjoy elephant joy ride up its steep ramparts. After lunch in 1135 A.D. Boutique restaurant located in Fort Premises ,enjoy walk through the multi layered corridors of Palace Complex to appreciate the aesthetic ambiance of this complex built with red sandstone &marble.
Later drive back to the City Palace complex,& discover the old world charm of Mubarak Mahal, Chandra Mahal, Diwan-I-Khas, Diwan-I-Aam, museum in the Maharani Palace & nearby located UNESCO World Heritage site of Jantar Mantar (observatory with an operational Sun dial). Proceed to ITC Rajuputana for cultural program & dinner. Return to train late evening & depart by 2215 Hours.
Day 5 Thursday:
Khajuraho - A Sculptural Extravaganza
Khajuraho was the capital of the Chandela Kings, now famous for its magnificent temples. The temples were built by Chandela dynasty between 950 A.D. and 1050 A.D., are example of Indo Aryan architecture dedicated to Lord Shiva, Lord Vishnu and the Jain Tirthnkaras, the temple show case the art and architecture of medieval India. The Khajuraho temples have declared a world Heritage site. The Temples of Khajuraho are divided in to three geographical groups western, eastern and southern.
The temples of Khajuraho are a confluence of spirituality and eroticism frozen in exquisitely embellished architecture. These temples are located in a quaint little village with a rich cultural heritage almost in the middle of nowhere in Madhya Pradesh in the heart of India.
The amouous carvings are confined to the external walls as if to purge the earthly desires outside before entering the sanctum of spirituality. It is also seen as a "a strange union of Tantrism and fertility motifs, with a heavy doses of magic". Another theory explains the erotica depicted on the temples as an exposure to prepare the "brahmacharis" for the worldly role of the house holder and acquaint them with real earthly passions.
Train arrives by 0930AM at the dusty plains of Central India, UNESCO World Site of Khajuraho has the largest group of medieval Hindu & Jain temples, famous for their erotic sculptures. Morning excursion to more famous, western Group of Hindu Temple complex. After lunch in 5 Star Hotel, visit Southern group of Jain temples. Later Return to the train & depart at 2000hours. Dinner on board.
Day 6 Friday:
Varanasi - A Pilgrimage
Varanasi is the oldest city of the world. Varanasi is more than 3000 years old and is famous as the city of temples. In Varanasi, there are temples at every few paces. Jyotirlinga Visvanatha Temple or Golden Temple, rebuilt in 1776, is dedicated to Lord Shiva. The Jnana Vapi well (meaning 'Well of Wisdom') is believed to have been dug by Lord Shiva himself.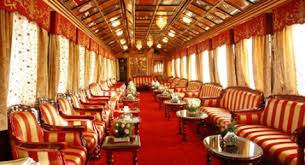 The Ganga Ghats (river front) are the most popular pilgrimage spot of Varanasi and are centers of music and learning. The holy city has been a symbol of spiritualism, philosophy and mysticism for thousands of years and has produced great saints and personalities like Gautama Buddha, Mahavira, Tulsi Das, Shankaracharaya, Ramanuja and Patanjali.
Varanasi, or Banaras, (also known as Kashi) is one of the oldest living cities in the world. Varanasi`s Prominence in Hindu mythology is virtually unrevealed. Mark Twain, the English author and literature, who was enthralled by the legend and sanctity of Banaras, once wrote : "Banaras is older than history, older than tradition, older even than legend and looks twice as old as all of them put together" . According to the 'Vamana Purana', the Varuna and the Assi rivers originated from the body of the primordial Person at the beginning of time itself.
Train reaches at 0600AM at Varanasi or Banaras. It is situated on the banks of Holy River Ganga & considered to be the oldest continuously inhabited cities in the world with history dating back to 8th Century B.C. for Hindus. Early morning excursion to Holy Ganges river for boat ride to view the centuries old bathing rights of the Hindus Return back to train for breakfast & brief rest. Later proceed for excursion to UNESCO World Heritage site of Sarnath, where Lord Buddha preached his first sermon in 5th century B.C.
Drive back to Varanasi & after lunch in 5 Star Hotel, return to train for brief rest. Later afternoon drive back to Ghats of River Ganges for a photo opportunity to capture the evening lamp immersion ceremony preceded by sound of Coonch shells & holy chants. Drive back to the train for dinner & depart by 1955 hours.
Day 7 Saturday:
Agra - City of Taj
Agra is located on the banks of river Yamuna and was established in 1504 by the ruler of Delhi, Sultan Sikandar Lodi. The medieval era city, Agra is a witness of the rise and fall of numerous dynasties. The city is home to the gem of finest architectural monument, Taj Mahal.
Taj Mahal, is the mausoleum that reminiscences of the love shared between Shah Jahan, the king for his beloved queen Mumtaz after her demise. This white-marble-wonder expands on the design traditions of Persians and Mughals and is one of the most visited sites in India.
After a heartfelt visit to one of the Seven Wonders of the World, you'll be ushered to the Lal Quila or the Red Fort of Agra. This fort is also called the Palatial City because of its enormous size. The fort was the largest state treasury and welcomed ambassadors from other princely states.
Train arrives at 1000AM in City of Taj. Located on the River Yamuna, town of Agra
On arrival in Agra, visit the UNESCO World Heritage Site of Agra Fort, originally built in Red Sand Stone by Mughal Emperor Akbar in mid 16th century, but soon converted into a Palace by his Grandson, Shah Jehan with extensive relaying of marble stone with inlay work Places of interest include, Moti Masjid, the Hall of Public & Hall of Private.
After lunch in Jaypee Palace Hotel, Proceed to visit perhaps one of the most beautiful buildings in world - The Taj Mahal, one of seven wonders of modern world & also an UNESCO World Heritage Site. Return to train by 1800 hours for Dinner & Train Departs by 2100 hours.
Day 8 Morning: Sunday:
New Delhi
Train arrives in Delhi Safdarjung Station by 5:30AM.
After early breakfast, check-out from the week long Royal Rajasthan Train Tour train before 7:15AM.